Geothermal Design & Installation
from Buchanan & Hall
The Smartest Way to Heat & Cool
A geothermal heating & cooling system replaces traditional heating and air conditioning equipment with an energy efficient heat pump that transfers heat energy between the ground outside and your home or building. As energy efficient technologies continue to gain momentum amid concerns over pollution and global warming, geothermal leads the way as the smartest way to heat and cool.
Buchanan & Hall is an official distributor of GeoSmart Energy geothermal products. GeoSmart Energy is a leader and innovator in the geothermal industry. Their geothermal units are energy efficient, comfortable and reliable. We believe that a customer's investment in a geothermal heating and cooling system should be worry-free from the point-of-purchase to installation, through to year-round operation.
Click below for a full list of GeoSmart Energy's products:
Greener Homes Grant
Homeowners are now eligible to receive up to $5,000 for the installation of a new geothermal heating and cooling system.
How does the Greener Homes Grant program work?
How do you sign up for the Greener Homes Grant?
Click below to find out more information.
Learn More
Geothermal Heating & Cooling Innovators
Geothermal is in our DNA. Buchanan & Hall was one of the very first companies in Ontario to begin designing and installing geothermal heating and cooling systems. With over 40 years of experience in the industry, we've acquired the knowledge and skills necessary to ensure your system is designed and installed properly.
Types of Geothermal Ground Loops
Horizontal Trench Loops
Land size dependant based on design
Trenches range from 100 – 300 ft long
Polyethylene pipes inserted into trench (approx. depth 5 ft)
Trenches dug & backfilled using excavator
Typical home requires ¼ to ¾ of an acre for trenches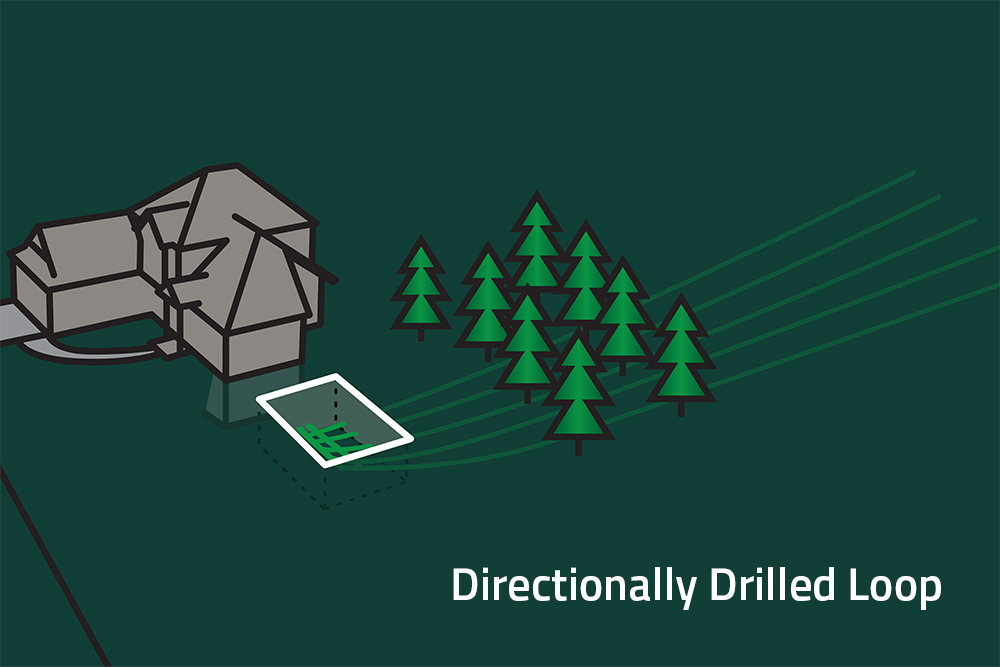 Directionally Drilled (Horizontal Bore) Loops
Land size dependant
Ground Loop can avoid disrupting surface & subsurface obstructions on site
Double pipe connected by U-bend inserted inside horizontally bored holes
Depth of holes dependant on soil conditions & system size
Digging only required for header trench where pipes join
B&H is the only contractor in Ontario with their own directional drilling equipment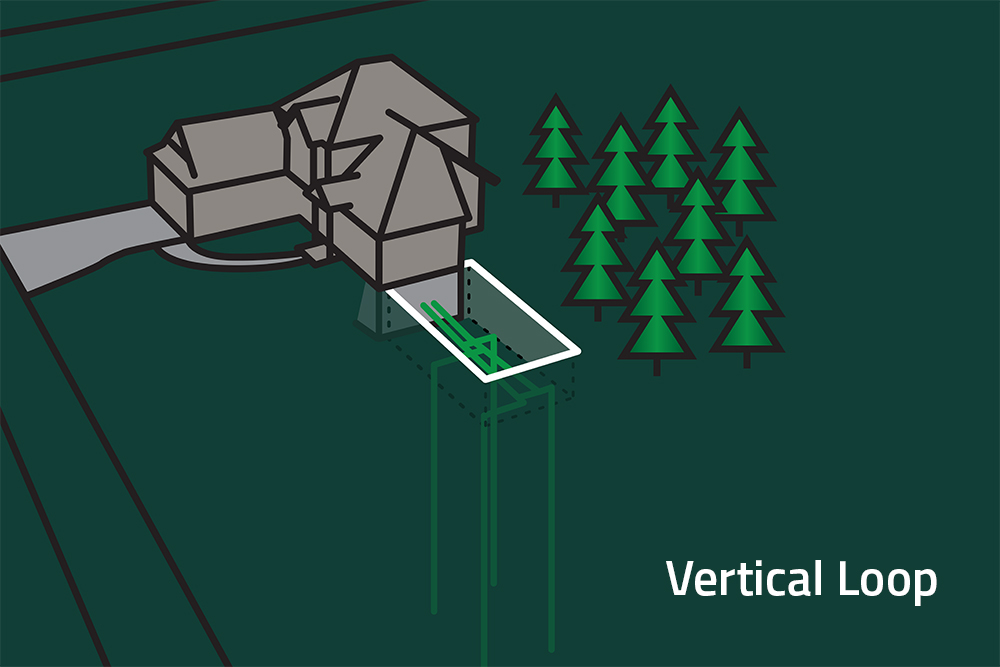 Vertical Bore Loops
Useful where space is limited
Requires drilling rig for multiple hole
Double pipe connected by U-bend inserted down multiple drill sites
Depth of holes dependant on soil/rock condition & system size
Only digging required is for header trench where pipes join
Open Loop (Water Well) System
Requires abundant supply of well water
Discharge well such as a stream or pond required
Potentially the most cost-effective option up front, if well equipment requirements are met.
More Geothermal Services from B&H
I would recommend Buchanan & Hall because of the people. Without a doubt, you can be assured that the culture at Buchanan and Hall will mean everyone from the company makes sure you get what you need, and have it done professionally.
The next home I build will include Buchanan and Hall from the beginning for sure. The crew were respectful and kind. The house was left clean and all garbage removed by the crew. Everyone was polite and they didn't mind working around my large pets.

Chris F Geothermal Customer - Mitchell, ON
You have a great group of guys working for you. They are all very professional and conscientious of the work they do and their interactions with us were great! I wish all contractors were like the guys you sent over. Wish we had more work for you!

Daryn Geothermal Customer - Puslinch, ON
I would like to thank you and all of your employees involved in my geothermal experience. Every aspect, from the initial consultation to B&H participation in the open house, was professional, friendly, honest, courteous and of course, knowledgeable.

Jeanette G. Geothermal Customer - Mitchell, ON
We chose Buchanan & Hall to install new refrigeration units. We also had them install new fans, a condenser system, line the butcher shop walls with insulation and install a coil, plus upgrade the walk-in refrigerators and freezer. Excellent service, workmanship and company integrity as they helped remove the old units, ran new water and drainage lines, and made sure everything worked perfectly once the new units were installed.

Gail F. Owner, Paisley Freshmart - Paisley, ON
My geothermal system just keeps on working year after year.

Murray S. Geothermal Customer - Stratford, ON
Thank you. The guys who installed the furnace were very professional and a pleasure to have in our house. We appreciated their work.

Doris Geothermal Customer - Lakeside, ON
Thanks again for staying very on late on a Friday evening to repair our WaterFurnace. Without your determination and stamina, we might still be dealing with our unrepaired unit. The unit is working very well again. Take care and best regards.

Geert Geothermal Customer - Kirkton, ON
I appreciated how super polite the guys were. Andrew, Jason and Jesse represented Buchanan & Hall very well.

Marlene Residential Customer - Stratford, ON
Thanks for dealing with my heat pump before the warm summer. And thanks to Patrick and Dylan for installing it. I'm glad to know that when hot days arrive, I'll be ready.

Margaret Residential Customer - Stratford, ON
Awards
2010 – Stratford & District Chamber of Commerce Business Excellence Award

2014 – GeoSmart Energy National Dealer of the Year Award

2015 – GeoSmart Energy National Dealer of the Year Award

2018 – Mueller Dairy Equipment Growth Award
Zero Carbon Facility with 100% Renewable Energy

73 Years in Business

Over 4500 Customers

Over 10 Industry Awards

Average 5-Star Rating on Google and Facebook

Locally Owned and Operated